6:27 PM Thursday, April 30, 2009
SCHOOL WAS SO FUN TODAY!!!!!
HAHAHHAA , I love the business communication lesson, its so fun! omg. :P
hahaha, well, we were told to do this grammer exercise and went up to the boards to write our answers. The team is still Royal!! :P so its all good! :D
We did not manage to get all the answers right, but it was still a good job done! We can do better the next time :)
When the half hour break came, I went really high with some of my friends, start scribbing on the boards like crazy! played "guess the sketch" with some of my very lame drawings! (i can't draw dam it! hahahah, all my drawings look weird).
Then, after some time, we started playing hangman! I got some help from my classmates in volunteering some words! Haha, it seemed everyone in the class were participating! so cool! :P HAHA, some of the words are so easy though! :P I have not even start the game, they already guessed the word !!! hahahha :P (so unfairrrrrr. XD)
thats about it for the day! :) :)
so fun!!!! hahahhah! i enjoyed myself alot :P
However, there will be following weeks of seriousness!!! no fun anymore! :P
take care all & happy labour's day!!!!
xo
Rae
9:07 PM Wednesday, April 29, 2009
AHHHHHHHHH! My long awaited watch has arrived!!!
hahahahah this is so wonderful! I m kind of shocked!! my father bought me one watch finally! this is a surprise though!!!!!!!:P he called me on the phone, and told me if I wanted a watch. I told him that I would want to go down and see if I like it first, before I would buy it!! But he went to buy it before hand. Its white and has crystals all over it!! OMG!!! I LOVE IT SO MUCH!!!!!!!!! ahahhaha! ahhhhhhhh! amazing! woohoo! okay!! :P i am so happy & HIGH RIGHT NOW!!!!!!! ;P
my mom told me this is for my good results! LOL! =P
but I knew he wanted to get me one long ago! :P :P :P
I love love love it! I will protect it forever!!! :D
THANK U DADDY!!!!!!!!!!
xo
rae
6:42 PM
hello people,
its me again! just popping by to ramble a bit about school!
yesterday, school was so FUN! o gosh, we kept laughing and went really high ! it was so funny! :P i hope we can be like this everyday! hahahahaha! =D well,i was really high (got to admit that! LOL!) :P
today, we had our first world skills lessons. we are given this really REALLY REALLY THICKED BOOK that we need to use throughout our course. And it was really wordy and stuff.
I just switched off after that! it was so boring......... and I was wasting my time...playing facebook! LOL! HAHHAHA! :p woops. but i still did some practices. since it was the only the beginning, 'Microsoft Word' was pretty okay, not too bad for a start.
Hopefully in the following weeks, we get to learn other interesting stuff. XD
Okay! thats it for now! Friday's Labour DAY! Woohoooo! XD that means no school. :P looking forward!
seeyou xoooooo
rae
9:01 PM Friday, April 24, 2009
Yayyy! Today is Friday! :D
Wheeeeeeee!! Oh gosh, nothing really much happened in school today.
Ummm, for our project groups for the business modules, we are told to draw lots for the new "teams" we will be doing with.
So I am pretty much happy with the outcome! :)
For "Business Environment" module, I will be doing with Huan, Alex and Sara! I never worked with them before! Haha, so this should be fun! :P
And for "Finance" module, I will be doing with Khim, Nicholas (Royal Teammates), Xueling and Qifeng.
Its all good in the end! :) Hope we can work together as a team, successfully! Working hard and having fun as well!
During lecture today, Mdm Loh went through how we did last semester. I am pretty excited & happy as my name was shown on the screen for "Top 20" in Cohort. YAY! =) Okay, hope my name will be there for the next 4 semesters! :D *PRESS ON*. && I received a certificate for being in the Director's List in Semester 1. :)
Take care all!
I am so tired right now, I am going pooooooof!
Cheers!
xo
Rae
7:27 PM Thursday, April 23, 2009
Hello,
just in here to ramble a bit about school.
Today lectures were boring. =/ Hahha. I nearly fell asleep and yawned over a dozen times.
However, our first business communication tutorial was fun! The teacher , Mr Ho, is really funny and he made all of us comfortable. We were told to introduce ourselves to him. & I must say its good as we get to learn more in depth about one another.
I received good feedback, and I am going to work hard for oral presentation as well as writing is concerned.
I think I am going to enjoy this lesson, even though it takes a lot of writing and perserverance! :)
I am soo tired right now! :(
I am going to create a blog for our E-com Project for our minutes of meeting. :)
Cheers,
xo
Rae
3:46 PM Wednesday, April 22, 2009
I had my first night lesson in NYP last night.
It was draggyy boringgg....sickk. =/
Thats all I gotta say! Hahaa, i was practically yawning like so bad. =/
And oooooo, its almost the weekends.
Homework, assignments & projects are piling up over the weeks, and I am not looking forward. =/
Love
Rae
6:42 PM Monday, April 20, 2009
The first day of school for me, was great! =)
I am hoping to get into the study mood soon, though I feel like so shagged right now! I want & need more sleep! :/
So, we had our first lecture at 9am today. And it was okay....... we learnt about database management systems. Theory....Theory....Theory! Yawn...Yawn...Yawn...
Class ended at around 10am and we were told there were no tutorials this week. Therefore, our lunch break started at 10am-1pm when we had to head back for our database practicals.
When we reached bishan, it was so early that pizza hut isn't open yet till 11am. We found ourselves into the arcade.
Haha, played a few games there, quite fun! :P
At lunch, I got myself a pan pizza! We had a nice & bloated meal there. =3
Till it was time to go back to school for practicals at 1pm.
Well, I learnt some basics on the database. It went well, & I understood it! So its all good.
Then we continued with our next practical lesson on E-Commerce project. Our teacher is Mdm Loh Moi Yong. Shes quite nice, and shes very patient with us :) This is like a website form of project. So I hope I can learnt more to make a professional full website! I am so ready to take up this challenge! =)
After lesson ended, we stayed back for a bit to talk to Mdm Loh. And she said Khim and I will be meeting the directors next week. And got to prepare a list of achievements & participation we did. Oh goodness, I don't know of like any achievements. I am not active in CCAs' and stuff. :( :( :( ! Urgh! I got to get something up by friday!
Okay...... write till here! :)
Goodbye!!! talk again!!
-Rae
8:05 PM Thursday, April 16, 2009
Today , Khim & Soklei came over to my place to exercise! HAHA!
I booked badminton in the morning at around 11am... it was fun till something sick happened to me! HAHA i think i am low on sugar & yeah I wasn't feeling that well. Vomited out water~~~ super disgusting! HAHA! Then my vision went blur! Anyways, I am okay after a while! Thanks Khim for getting me some sour plums! LOL! Thanks to both of them for taking care of me! =) So embarassed ! :P
Then they came up to my house to hang out and test the piano! Taught them to coordinate a song, and after practicing for almost a hour! Khim & Sok Lei did it!!! Woohoo, I got video of it! But they don't want me to post it up! ahahha, too bad! But its all good! so proud of them! :D
We had light lunch and at 3pm, we went down for our basketball game. It was funny and fun! :) After all our energy got drained, we sat down at the side and chatted till it drizzled! (jus a bit).
We went back up and hang out till it was time to go home! I shared with them my autographs I have hahaha! =) And Khim continued to play her "Forbidden Love". Well, she didn't finish the song, but I knew she worked very hard on both hands for the first intro part! Haha, way to go!!! =D
And it was time to go home!!! -waves goodbye- hahaa! :)
I had fun today, all thanks to Sok Lei and Khim! And we finally got time to catch up with one another!!
See you all in school on monday!!!!
Good nite`
Rae
11:23 AM Wednesday, April 15, 2009
Watch this..from 0.08s-0.10s!
HAHAA! My friends , Rachael , Jingyi and my face were zoomed in! HAHA!
Actually there were so many cameras we smiled to, but we didn't know they zoom in on us for this one! LOL!
12:18 AM Friday, April 10, 2009
It was chalet today!
took train from YCK to Paris Ris today! Nearly 20stops, nearly died! hahahah! =D its so far ! Anyways, I met Alex, June, Cynthia, Sara and Xueling at the MRT Control station.
We bought some BBQ stuff then went ahead to the Chalet.
The chalet was okay, it was a class chalet. Most of them were there but some of there were not there! But thats okay! Before the cooking really started, we played some games. Joan and Soklei taught us some games! It was kind of fun and hilarious! haha! =D
After that, we ate and chatted & caught up with each other. I was there to spazz all about David! LOL ! =D
My mentor, Miss Huang, was there too! Its nice to see her. Got to talk to her for quite sometime! Shes very encouraging and I hope I could do well for the rest of the years in Poly! Thank you & I will enjoy this ride! I promise not to be complacent and to continue to be competitive! :)
A little drama occured when my parents went to pick me up! They couldn't find the exit and with my dad's horrifying temper, he was screaming in my ears! :/ Then thank goodness, I found their car somewhere along the road! and I stopped them!
Thanks Soklei & Sara for sticking by me! everything is alright & I didn't get killed! :D Whoops =3
In the car, I tried to explain things and it turned out to be a misunderstanding of directions! haha, no worries! we are totally fine now as I told them the stuff that happened in the chalet and they heard about the results position expectations! They cooled down after that. (:
Another happy thing that happened today is that, my youtube channel was ranked the #14 Musician Viewed today! Wow, so honoured! Thanks to David! My channel is getting so many views! So amazing!
School is starting in 10 days! I have to get prepared, spring cleaning of my notes, files and everything for the new school term!
I have played hard this holiday, its time to switch on again! :)
Blog again soon! :)
Love
Rachel
8:07 PM Wednesday, April 08, 2009
Hello earthlings, its me, Rachel!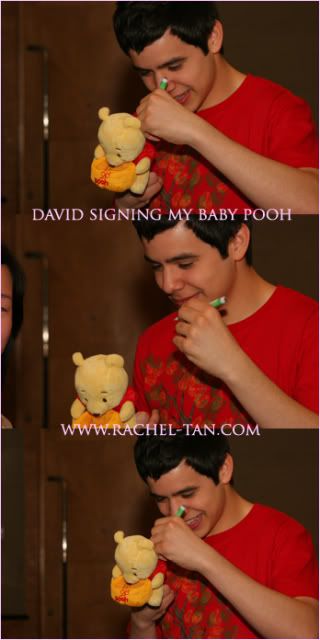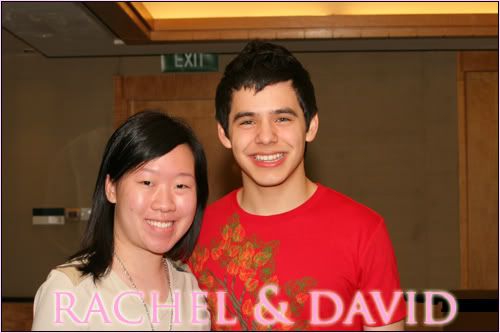 Today, I met David for the second time. But this time was a personal, private and upclose session. It was planned by Singapore David Archuleta Fanclub and Sony BMG Singapore. (Thank you guys!! I appreciate it!!)
We got there to David's hotel at around 11.15am and we prepared ourselves till it was time to meet David which was scheduled to be 12noon.
We were led into this private room and he was there already waiting for us! Hes so nice and greet everyone of the fans!
We took turns to take photos with David and give him the gifts that we have prepared!
I was the fourth in line. (Maybe the number 4) is my lucky number, yesterday I was the fourth in line for the autograph session too! :P
And to be honest with you, I was pretty nervous and excited. :D
When it was my turn, I went up confidently and said "Hi, David!" . Then , both of us posed for the camera! Then, I asked for a hug! And he gave me a really firm and warm hug. I was so touched because he was so real! Its also my dream come true to get a hug from him, and I finally did! Thanks David! You rock! :D
After that, I waited for my turn again and I handed him the gift I've prepared. I bought him a shirt, a keychain and I wrote a card.
When he looked at my package, he went "awww, nice!" . I told him I would love to see him wear the shirt in the UK tour meet and greets. He went , "aww, sure, thank you".
Next, I took out my baby pooh bear and he looked at it. He said "awww, you want me to sign this? so adorable, awwhh". I told him to sign on it! LOL! I melted! Haha, David held my baby pooh bear , adjusted its shirt and signed on it! This is priceless to me. I shall name it "Baby Pooh Archie".
Then, I told him to sign on the lifestory magazine that I've also brought with me. He wrote my name too, as I requested! A little pity on it is that, the cover was smerged a bit. Its okay! I still love it! <3
http://img.photobucket.com/albums/v196/flutterbybliss/P4040401.jpg
http://img.photobucket.com/albums/v196/flutterbybliss/P4040405.jpg
He got down to signing everyone's stuff and taking pictures. He is sooooo nice and awesome! :D Finally, we settled down and Sheryl began to introduce him to the project we did (Team from davidarchuleta.sg). I have no words for this one. He looked so appreciative to what everyone has done for him and he looked very enjoyable while watching the video! It was so touching and heart-felt. We are so glad he loved it, his eyes were glued to the video. After the video ended, he said "wow, interesting! haha". There are a couple of giggles in the video, as you watched him closely! :P Isn't he adorable. And yes, I was JUST right BEHIND HIM! :)
And he kept saying "aww, its awesome!!!". :D We are so happy he LOVED it! This project is very special to us and it is definitely a success because we got to show it to him while its isn't rushed or anything like that. We took our time, and thats a good thing :) Here are some photos, they ain't the best ones out there! However, I can promise you the best are coming soon because all of the HQ pictures are at Larissa's camera. Just keep a look-out for them!
They are archu-adorable and hotness coming your way! Last but not least, I want to thank David because YOU MADE MY DREAM COME TRUE for making AN APPEARANCE here in Singapore. I can never imagine it! THANK YOU DAVID SO MUCH! DAVID, I LOVE YOU!
Pictures
(My Signed Stuff + David Photos)
http://img.photobucket.com/albums/v196/flutterbybliss/P4080563.jpg
http://img.photobucket.com/albums/v196/flutterbybliss/P4080569.jpg
http://img.photobucket.com/albums/v196/flutterbybliss/P4080568.jpg
http://img.photobucket.com/albums/v196/flutterbybliss/P4080565.jpg
http://img.photobucket.com/albums/v196/flutterbybliss/P4080564.jpg
http://img.photobucket.com/albums/v196/flutterbybliss/P4070541.jpg
(Gift that I have gotten for him)
Video
http://www.youtube.com/watch?v=gNNwrOSMJEQ
Love from Singapore
GOD BLESS YOU!
Rachel Tan
10:31 PM Tuesday, April 07, 2009
ITS D DAY!
ALL MY VIDEOS ARE AT
http://www.youtube.com/user/pinkamech
HELLO TO ALL THE FANS AROUND THE WORLD!
Today is BY-FAR the MOST AMAZING NIGHT OF MY ENTIRE LIFE! I am so lucky to WATCH HIM SING LIVE FOR THE VERY FIRST TIME ! MY DREAMS CAME TRUE TONIGHT, APRIL 7TH 2009.
I am giving you a review, photos & videos I promised to let you guys know the inside stories!
I went in the morning, around 11am to see already a line of fans outside the doors in Iluma. The queue was quite short, till afternoon, when fans started to stream in. It was way cool and I am so happy because so many people are here for DAVID!!
We did a cheer for David while waiting to get into the doors. We were so hyped up and it was already so crowded at around 3pm in the afternoon. It was really awesome all the fans were so sporting and they screamed as we told them to! :D
After a few hours gone by, at around 5pm. The people-in-charge came out and prepare to go into the Atrium.
All of us were very cooperative and we got in line pretty quick.
I was the 4th person who got in & I knew I was in for the FIRST ROW!
My friends and I got settled down and sat down, till David came out at 7++pm.
The crowd was going really CRAZY AND HIGH, AS FOR EVERY SECOND, we thought David was coming out.
AND FINALLY HE DID CAME OUT!!!!
My heart just melted and the whole Iluma Mall started to SCREAM LIKE THERE WAS NO TOMMORROW! The ENERGY was OVER THE TOP! I AM SO PROUD OF SINGAPORE ARCHIES!
He started off by singing "Touch My Hand". He was jumping over the place and the vocals were mad!
Seriously, he just blew the top of Iluma! I was pretty shocked and I was singing along with him.
He was AMAZING AND BREATH TAKING!!! What a brilliant song choice to start!
At one point of the song, he pointed DIRECTLY AT ME AND SANG IT INTO MY EYES. I WENT CRAZYYYY OF COURSE!! AHHHHHHHHHHHHHHH! :D *melts* I think he stood there for 4 verses! LOL! What a lucky girl I am!
http://www.youtube.com/watch?v=LIMZTXyMGFA
Second song he sang was "A Little Too Not Over You". He was AMAZZZZZZZZZINGG! AND HE WAS REALLY SINGING IT TO THE CROWD! THE ENERGY WAS STILL MASSIVE HIGH.
JUST BEAUTIFUL, DAVID! WELL DONE!!!!!! I am so proud of him!
http://www.youtube.com/watch?v=rKjhDeoT060
Third song he sang was "A Thousand Miles". I was DYING TO HEAR HIM SING LIVE. And I WAS SO ESTATIC THAT HE REALLY DID SING IT ! I WAS BLEW AWAY!!!! SPEECHLESS.
http://www.youtube.com/watch?v=RfsQPm0nPCc
DID SO WELL ON PIANO!
HE'S THE MOST AMAZING TALENTED MUSICIAN I EVER SEEN IN MY LIFE!!!!!!
Last but not least, he sang his #1 HIT SINGLE over all the radios in Singapore. And HE WENT EXTREMELY BRILLIANT WITH IT! I enjoyed it SO VERY MUCH!!! IT WAS SO AMAZING!!!!!! THANK YOU DAVID FOR SINGING YOUR #1 SONG!!!!!!!!!!!
http://www.youtube.com/watch?v=_40LAVtxSBM
PHOTOGRAPHS
http://img.photobucket.com/albums/v196/flutterbybliss/P4070434.jpg
http://img.photobucket.com/albums/v196/flutterbybliss/P4070435.jpg
http://img.photobucket.com/albums/v196/flutterbybliss/P4070438.jpg
http://img.photobucket.com/albums/v196/flutterbybliss/P4070451.jpg
http://img.photobucket.com/albums/v196/flutterbybliss/P4070455.jpg
http://img.photobucket.com/albums/v196/flutterbybliss/P4070496.jpg
http://img.photobucket.com/albums/v196/flutterbybliss/P4070460.jpg
http://img.photobucket.com/albums/v196/flutterbybliss/P4070457.jpg
http://img.photobucket.com/albums/v196/flutterbybliss/P4070458.jpg
http://img.photobucket.com/albums/v196/flutterbybliss/P4070461.jpg
The crowd had such a great response and sang along with him! :) David is an International Superstar!!!
After that, it was the autograph session. I was the 4th person who went up!!! :D I am so honoured to be one of the first few !!!
However, no photography was allowed :( So I did not get a photo with him. But I did told him, "Thank you for coming to Singapore, I really appreciate it!!!".
He signed my CD cover really nicely! I love it! :) And I am so excited to get my CD signed! :D So, thank you David.
Now leaving you with some photographs while the videos will take some time to load. That will be coming soon!!! I promise you they WILL BE WORTH THE WAIT!!!!
I might not get them all up for you tonight (I am already dead beat), but I promise they will be delivered to you tommorrow evening. :)
Stay tuned to my blog this few days FOR MORE UPDATES & PICTURES, www.rachel-tan.com for more UPDATES COMING TOMMORROW!!! :)
ALL MY ARCHIE-LOVE ACROSS THE WORLD,
GOOD NIGHT FROM SINGAPORE!
Rachel Tan , 19
Singapore
9:30 PM Sunday, April 05, 2009
really hope he likes it here!!!!
11:33 PM Saturday, April 04, 2009
HAHA! I HV BEEN TRYING FOR DAYS ! TO WIN THE FINAL TICKETS (DRAW) TO THE MEET & GREET TO MEET DAVID ARCHULETA! I AM THE 9TH CALLER YAY! HAHAHAHHA! OMG. I think I sound stupid! hahah!
GASPS FOR AIR! AHHAHAHA!
I WENT EXTREMELY NUTS ON AIR! ahhahahha! =D WOOHOO! BEING ON AIRRR.. SO FUNNN LOLOL!
Okay! :D Something to look forward too!
This feeling is great!!! :D
Rachel-
5:01 PM Wednesday, April 01, 2009
Sorry for not blogging!
I just can't find anything to blog . oh well, i would just say something. haha =3
so the past weeks of my holiday were BORING. oh well, some days , i will chill out in the office, watching tv all day long, on the computer all day long, playing the piano, anticipating david's arrival! (YES, A FEW DAYS MORE? DUR). i am so happy for those who won M&G tickets! haha. =3
i've still no idea what to get him! how!??!!?
its just a few days left......
i am so going to take photos + vids for sure!! so check back!!
school's starting soon! well, hoping to do BETTER!! *yes, better than 5 aces* :D wish me luck! uhh, actually i don't really care tho, i just want to do well! :) thats for sure! (:
& all the best to all my friends who are in OGL today for the final running! (: awesome people. =3
love
rae